Michiana Swimming Pools...
A Bit About Us

At Michiana Swimming Pools our team has been designing and installing pools for northern, Indiana and southwest, Michigan for nearly 50 years. When we started out our goal was to ensure our customers received the very best pool design and installation possible for their investment. Our technicians are seasoned and have been trained to meet (and typically exceed) the standards set by the industry
and the pool product manufacturers.
We have always listened to you very carefully before we start a pool project whether the swimming pool is for you residence or for a business. We ensure that we understand your objectives and then find the right product and the right solution for you. This process has always set us way ahead of our competition.
Our next step is to properly design the swimming pool that you are going to love and enjoy for many, many years to come. After you have approved your new pool design we begin the process of scheduling and planning. As we start the build we our project manager will monitor every single step taken along the way to make sure that our quality demands are met and as well as your goals and expectations.
When your pool is in and ready to go we make sure that you understand everything that is necessary to maintain it and prepare it for your pleasure. This is when the FUN begins!
Once everything is said and done we follow up with our customer service loyalty which basically means we're there for you.
Of course one of the things we are best known for is the fact that we deliver the best product in the industry for the best prices in Michiana. That makes working with Michiana Swimming Pools a no brainer.
Providing top quality swimming pools at affordable prices make us Michiana's #1 Choice for Swimming Pool Companies!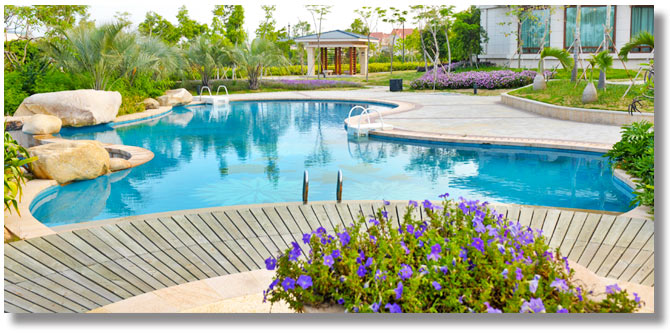 MORE THAN SWIMMING POOL DESIGN & INSTALLATION
However, Michiana Swimming Pools does more than just design and install swimming pools... we also service them, carry an outstanding selection of pool supplies and provide seasonal pool service such as pool openings and pool closings. In addition we replace liners and keep them looking like brand new. Plus, as a service to our customers, Michiana Swimming Pool Company offers free water testing and honest, simple, inexpensive guidance, to keep your pool in top shape all season long. We also offer the most competitive pricing on in ground kits, pool installations, and in-ground vinyl liner replacements in the entire Michiana area... and that's just the start of who we are.
Serving: South Bend, Mishawaka, Granger, Elkhart, Goshen, Niles & Surrounding Michiana Areas